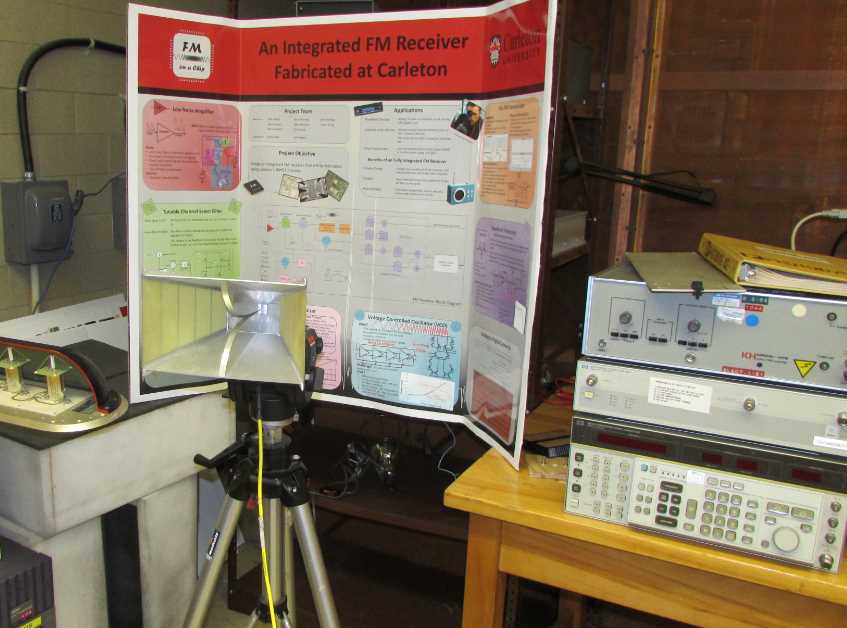 Experimental antenna and integrated receiver system for research on wireless sensor networks.
A wireless sensor network consists typically of autonomous sensors distributed over a given area or space for the purpose of monitoring and collecting data on physical or environmental conditions. The sensors pass their data cooperatively through the network to a main site for processing. In some applications the wireless networks are bidirectional in order to enable control of sensor activity. Thus the number of sensors connected via the wireless network may vary from few to several hundred or thousands, depending on the application and the dimensions of the area covered. To be an active participant in the network, the sensor must be integrated with a radio transceiver, an internal antenna, a microcontroller, an energy source such as a battery, and a form of energy harvesting such as a solar circuit. The topology of the wireless sensor network can vary from a simple star network to a multi-hop wireless mesh network. Data and signal routing techniques vary also in complexity and energy efficiency.
Examples of the applications of wireless sensor networks can be found in areas such as:
Process Management;
Geographic Area monitoring (Safety and Security);
Health care monitoring of wearable or implantable devices and machines;
Environmental/Earth sensing (air, water and soil);
Forest fire detection;
Landslide detection;
Natural disaster prevention;
Water/Waste monitoring;
Structural Health Monitoring.
Research within the Center in the area of sensors communications and wireless networks focus on the following topics:
Signal propagation and channel characteristics in different frequency bands;
Optimal wireless network topology for various applications;
Energy efficient data routing algorithms;
Wireless network management for enhancing reliability of data monitoring and collection.